At the Top – Burj Khalifa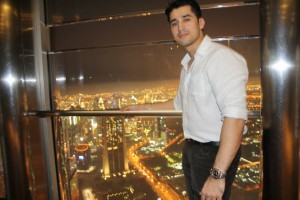 This has got to be one of the most overrated places I have ever visited. So the people at Khalifa, the world's tallest building tried their luck at selling real estate and failed. While the tower continues to struggle with marketing and selling what it was built for in the first place, they seem to have hit a sweet spot with sending push-overs like me up 124 floors in a high speed elevator which takes just a few seconds to get there and witness what they call the best view ever from an all round observatory.
I remember a friend telling me a few years ago that 'At the Top' is an unaffordable adventure. While the affordability has more or less been taken care of by the tower people, I'm guessing owing to little demand, it isn't really much of an adventure. I'd suggest most of you try this in broad daylight for 2 reasons. One, you get much better pictures. Secondly, they say on a clear day you can see all 7 emirates. While I'm certain that's practically impossible because of visibility constraints, why not give it a shot. 🙂
Cheers!