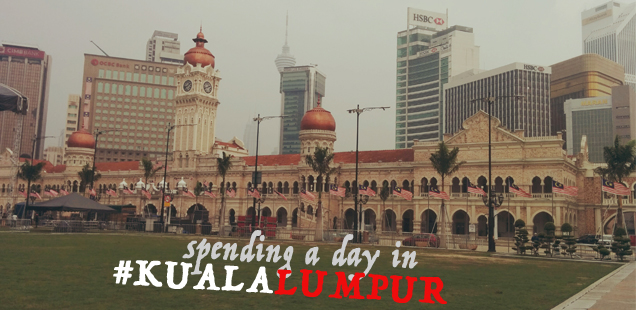 5 Things to do in Kuala Lumpur, a day long trip #trulyasia
Kuala Lumpur in Malaysia, as put by many, is the melting pot of Asia. Generations of a multi ethnic, multi cultural society have transformed this South East Asian city to a point where you can literally see the blend in the city life. The average traveler may often find himself transiting through KL for a few hours Here's 5 fun things you can do if you've got just about a day to kill in Kuala Lumpur. This article assumes you have a day at Kuala Lumpur (Morning through Evening) and all the recommended places are free to visit. The airport is a good 35 kilometers (21 miles) from the city center, but thanks to the flawless road infrastructure, you get there in less than thirty minutes!
1. Merdeka Square #dataranmerdeka
Merdeka Square locally known as Dataran Merdeka is the ground zero of where Malaysia began. Prior to its independence Malaysia, like many other countries in the region was a British colony. They hoisted the national flag for the first time here in August 1957 and the country's national day parades have been happening here ever since. Its a nicely cleared out area bang in the center of the city with a breathtaking skyline and a couple of history museums in the locality. A trip to Kuala Lumpur isn't complete without a picture at Merdeka Square and the iconic I Love KL display close to it. If you can't find it, head over the parking lot, you cannot miss it. Once again, clicking pictures anywhere around Merdeka Square including the I Love KL display is free of charge. Merdeka Square also doubles up as a mini history museum with facts and pictures decorating the walls of the monument.
2. Petronas Towers #twintowers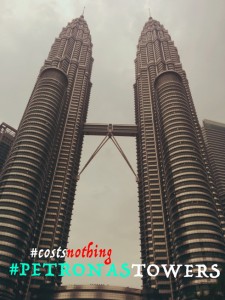 One just has to head over to the Petronas Twin Towers while in Kuala Lumpur for a couple of selfies. These towers stand 88 floors tall at about 451 meters and are were the tallest buildings in the world for 6 years till 2004. They still continue to remain the tallest twin towers in the world. A word of advise, do not pay to head up to the observation deck since it just isn't worth it! Clicking pictures of yourself and family from the base is just as good and, if you're on a shoe string budget, free of charge! If you want a more professionally clicked pictures, you'll find a whole bunch of professional photographers with Polaroid cameras willing to click you for just a few ringgits. At the base of the Petronas twin towers is the KLCC mall which is a treat in itself. It compares to some of the most premium malls in the world, though I would avoid going there on a weekend because of the crowds.
3. Central Market & Petaling Street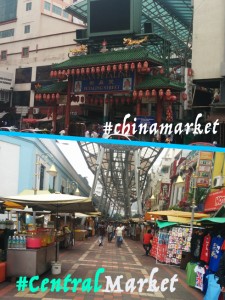 Central Market and Petaling Street a.k.a China Market / China Town are both just a few paces from each other. Central Market is a small air conditioned building with several small stalls, a few coffee shops and prospects to kill at least 2 hours on a hot afternoon. Central Market is famous for everything ethnic and Malaysian. What's better, they are open to a little bit of bargaining and every once in a way you might just land an unbelievable deal on a wall hanging or artifact. Central Market also features some shops that deal in semi-precious stone rings and jewelry, once again, at unbelievable costs! For the photography enthusiast, head over to the back entrance to find a store that sells used camera lenses (macro, telephoto, zoom, regular) in pristine condition.
China Market on Petaling Street is a whole world away from Central Market. The Plan of Action at China Market is to Haggle, Haggle, Haggle! Its basically just 2 intersecting streets lined with stall after stall of shopkeepers selling replica watches, sun glasses, accessories, bags, t-shirts, you name it! The deals one can get at Petaling Street rival those at places like Patpong Night market in Bangkok and the stuff they sell lasts forever. Try getting your hands on a replica Rolex at Petaling Street and have your friends spot the difference. Good luck explaining it at customs when you're back home!
4. Air Force Museum @ Simpang Airport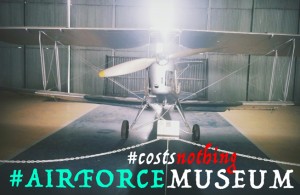 Being a pilot and an aviation enthusiast, I'd like to cite my obvious bias to include this as one of the places you have to visit during a limited 1 day trip. But then again, how many places in the world allow you to get into the cockpits of military aircraft from the 60s and 70s free of charge? That's exactly what one can do at the Royal Malaysian Air Force museum at Simpang Airport. The museum features several military aircraft displays and charges you nothing to get behind the wheel of one of them for a photo session. Its a pity this place isn't better maintained. Since this place isn't overtly advertised, there's almost never any crowd or tourist activity so you have the whole place to yourself and tonnes of potential pictures to click! We also spotted a gift shop which wasn't open while we were there. They sell pilot gear, authentic patches and accessories of the Royal Malaysian Air force that one just has to have!
5. Pyramid Mall @ Petaling Jaya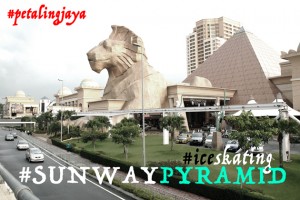 After 4 outdoor places, Sunway Pyramid Mall at Petaling Jaya (Not to be mistaken for Petaling Street) is a welcome change with its brand shopping and indoor ice rink. Pyramid is your typical semi-upmarket mall with brands from small to big and a whole lot of food places. The mall is built with an obvious Egyptian theme, which makes for a lot of photo opportunity outside, though on the inside it looks like any other mall. What caught my attention was this lovely little shop called Yen Zen selling all kinds of war ships from the 18th and 19th century. KL has a lot of malls all over, but given just a day in the city, you want to visit this one! I'll leave you with a picture of the Yen Zen store at Pyramid and the breathtaking model galleons.

I'd love to hear about your experiences at Kuala Lumpur. Comment, Like and Share to keep the discussion going!
You may also want to read these posts